The Government Information Center (GIC) is taking requests from State Agencies via their Public Information Officers (PIOs) to create digital and print graphics.

At the GIC, our mission is to connect citizens to their government, so we are excited to grow our capabilities with graphics to better inform the public. Graphics can take complex information and make it immediately understandable. Another goal is to help reduce friction between government and citizens, and to help agencies communicate more effectively with the public.

We are only accepting briefs and requests from PIOs, so please reach out to your agency PIO to find out more details. If you are a PIO, you can place a graphics/branding request through this form. Remember, projects must have an intended audience of the public (not just internal-facing), and we ask for sufficient lead time (at least 8 weeks notice) so we do not rush the creative process.

Below are a few project highlights recently completed by our Creative Team. Be sure to also check out the amazing work from our Video Team.
We have designed a Delaware themed coloring page ! Feel free to print or color digitally! Share your work with us on by using the hashtag #ThisIsDelaware
Also, check out our fun Delaware.gov Facts & Symbols page!
Branding Projects:
Branding – Looking for a new brand or branding facelift? The GIC offers branding services to state agencies to help promote a vibrant and consistent brand identity whether it is on the web or through print. A well established brand guide can communicate a variety of things both internally in your state agency as well as externally to the general public. The GIC will work with you to help cultivate a brand identity which will promote your mission, core values and personality as well as deliver all of the brand assets needed for a consistent tone on all platforms such as a logo, color palette, typeface, suggested imagery and more.
Featured Branding Highlight – DNREC's New Logo:
The logo features a vibrant sun shining high in the sky along with three yellow poplar trees representing the three counties in Delaware. The land has a slight bow to represent Delaware's low elevation. The water, land and sky represent the different elements of the natural environment.
The new circular shape evokes a sense of community and positivity. The earthy green symbolizes freshness, growth and balance while the blues represent serenity, stability, inspiration and wisdom. The vibrant yellow promotes hope. View the logo redesign case study as well as check out the new logo in action on DNREC's website.
Other Branding/Graphics Projects: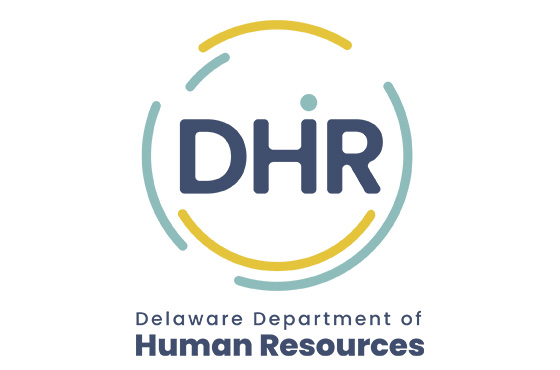 Branding Guides:
Social Media Graphics:
GIC runs the Delaware.gov Facebook, Twitter, Instagram, and YouTube channels. Our goals on these platforms is to celebrate Delaware, inform the public, encourage residents to explore Delaware, promote healthy living, and more. We also want our look and feel to be consistent across our platforms, so we developed elements that you can find throughout our graphics; see if you can find them all!
Meet Our Designers:
Amber Weeks
UX/UI and Graphic Designer

I love to help agencies connect Delawareans to government support and services. When I'm not designing or learning more about my work, I enjoy spending time with family, taking our pup Nova for long walks, and cuddling our two cats, Apple and Byron.
Karen Katz
Graphic Designer

I have a passion for using my design and photography skills to help the public good and to lift up and support local businesses in my area. When I'm not creating, I'm attempting to rock climb, going on nature photography hikes, and drinking way too much tea.
Julianne Solum
Creative Director

I feel like the luckiest gal in the world. I get to wake up and work with a team of extremely talented individuals who help connect Delaware citizens to their Government in a beautifully designed way! I enjoy running and spending time with my husband, son and daughter.